Pacific Union Trading (聯泰有限公司)
York Lo: Pacific Union Trading (聯泰有限公司)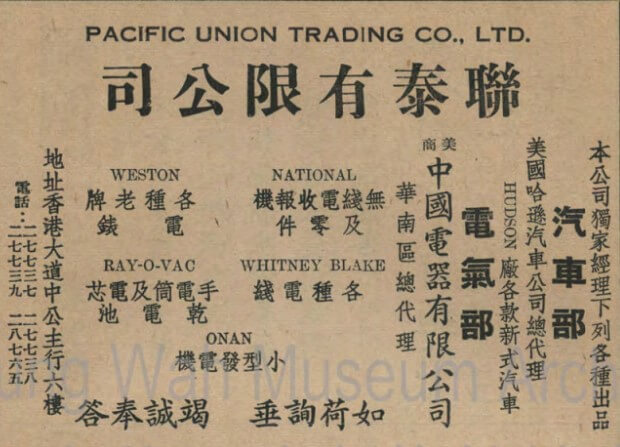 Ad for Pacific Union Trading in 1948 (Tung Wah Monthly Magazine, October 1948) 
According to the 1948 ad above, the firm's auto division was the exclusive agent of Hudson Motors. Meanwhile, its electric division was the sole agent in Southern China for China Electric Co Ltd, the subsidiary of International Telephone & Telegraph Corporation (ITT) founded in 1918 and products represented included National radio, Weston electric meter, Whitney Blake electric wires, Ray-O-Vac batteries and torchlights and Onan electric generators.  
According to the Directory of HK, Macao and Canton in 1949, the firm operated out of 501-506 Marina House in Central. The chairman of the firm was Aw Boon-haw (胡文虎, 1882-1954), the legendary founder of Tiger Balm and Sing Tao newspapers and the directors of the firm included his son Aw Hoe and lieutenants Khong Keng-poh, Teng Ming, Aun Ee Han (洪怡漢) and Yew Kien Chee while the managing director of the firm was Harry King and the manager was A. Swemmelaar. 
Incorporated in 1946, Pacific Union Trading was dissolved in 1954. 
This article was first posted on 6th December 2019.
Related Indhhk articles: