William Seybourne Bailey co-founder of Bailey's Shipyard
Hugh Farmer with thanks to IDJ: Some initial notes on WS Bailey founder with EO Murphy of WS Bailey & Co, Bailey's Shipyard.
Thanks to Robyn Evans, WS Bailey's granddaughter for birth and death details. Robyn adds the information on his gravestone is incorrect.
born Dublin 15th April 1859
died War Memorial Hospital Hong Kong 27th December 1935
Extracts from Twentieth Century Impressions of Hongkong, Shanghai and other Treaty Ports of China, ed A Wright, 1908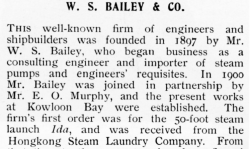 For an obituary of WS Bailey and further details about the shipyard see:
http://ourscottishheritage.blogspot.hk/2011/07/family-obituary-william-seybourne.html
Related Indhhk articles: