Cheung Ka Chai Medicinal Wine (張家濟酒廠)
York Lo: Cheung Ka Chai Medicinal Wine (張家濟酒廠)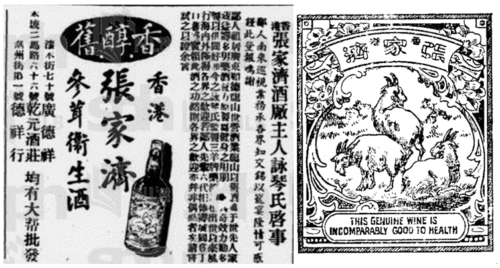 Left: Cheung Ka Chai ad in Singapore in 1947 (南洋商报, 12 February 1947, Page 3); Right: Cheung Ka Chai's Three Goats trademark filed in 1935 (HK Government Report)
Cheung Ka Chai is one of the firms not covered in the earlier article about the Chinese distilleries in HK. It is unclear as to when Cheung Ka Chai was founded but according to its advertisement in 1947, the Cheung family had been making wine in their village of Longshan in Shunde (part of the Foshan region where many of the Cantonese distilleries came from) for generations with a focus on medicinal wine. The Cheung Ka Chai wine featured ingredients such as ginseng and papaya but also had varieties which included more exotic ingredients such as snake, tiger and leopard.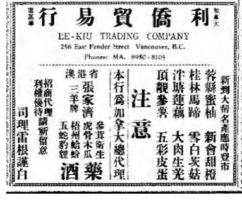 Ad of Le Kiu Trading promoting Cheung Ka Chai wine in Canada in 1950 (Chinese Times. 1950-2-7)
Under the leadership of Cheung Wing-kam (張詠琴), Cheung Ka Chai became a major distillery in Canton, HK and Macau. In 1935, it registered its "Three Goats" trademark in Hong Kong with the help of Lo & Lo and its address was listed as 164 Wing Lok Street in Sheung Wan.
By the 1930s and 1940s, Cheung Ka Chai and its "Three Goats" brand of medicinal wines was marketed not only in the Pearl River Delta but overseas in Southeast Asia via a family firm by the name of Kwong Fat Cheung (廣發祥石叻庄) which specialized in trading with Singapore and in Canada through Le Kiu Trading founded by Gunn Louie (member of the Louie family which owns the London Drugs chain) in 1946. In 1963, its HK address was listed as 98 Connaught Road West in Sheung Wan and the firm also had a branch in Macau in Rua de Pedra under the name of Vinhos Chines Cheong Ka Chai.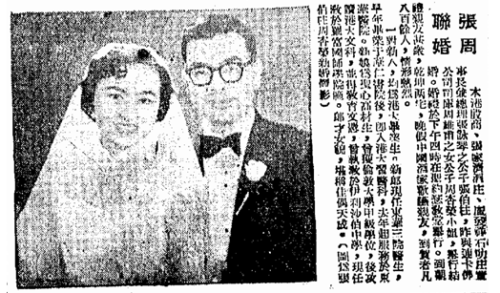 Wedding notice of Dr. Patrick Cheung in 1958(華僑日報, 1958-01-15)
It is unclear when the firm went out of business but the last record of Cheung Ka Chai was in Macau directory in 1980. Cheung Wing-kam's son Dr. Patrick Cheung Pak-chue (張伯柱) was a 1956 medical graduate of HKU who became the head of the HK Central Hospital and ran a private practice for over half a century in Sheung Wan before his death in 2016. His son Dr. Andrew Cheung Man-tak (張文德) also went into the medical profession.
This article was first posted on 19th February 2018.
Related Indhhk articles: