Sing Chow Electric Factory (星洲電器製造廠)
York Lo: Sing Chow Electric Factory (星洲電器製造廠)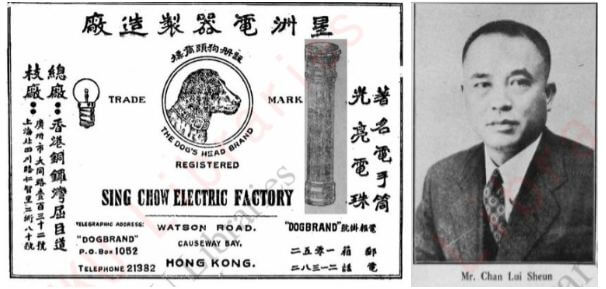 Left: ad for Sing Chow Electric in 1934 (HK Chinese Factories Survey, 1934); Right: Sing Chow founder Chan Lee-sheung (A Century of Commerce, 1941)  
Founded in 1920, Sing Chow Electric Factory was one of the earliest and largest manufacturers of flashlights in Hong Kong and known for its "Dog's Head" (狗頭牌) brand of flashlights. Its founder Chan Lee-sheung (陳履霜, 1889-1949) was one of the nine organizing committee members of the Chinese Manufacturers Association in 1933 and later elected vice chairman of the Association. 
A native of Namhoi in Guangdong province, Chan Lee-sheung graduated from the Nam Mu Middle School (南武中學) in Canton and served on the staff of the school for 17 years. He came to Hong Kong in 1920 and founded Sing Chow which by 1934 had grown to an enterprise with registered capital of HK$100,000 with its HK factory on Watson Road in Causeway Bay and branch factories in Canton (on Tai Tung Road) and Shanghai (on Szechuan Road).  
According to the HK Chinese Factories Survey in 1934, Singchow's HK factory had three major sections – assembly of flashlight, lightbulbs and pressing of copper sheets (with a 154 horsepower machine). The firm had 260 workers, 190 of whom were female. Many of the female workers were under the age of 20 as strong eyesight is required to make the small lightbulbs in the torchlights. When speaking to the reporter, Chan lamented that due to intense competition both domestically and from Japanese competitors, prices had dropped by more 60%. As a result, the once highly profitable business was barely breaking even. Despite this, Chan refused to cut prices (in fact Sing Chow's prices was allegedly the highest in the industry among local manufacturers) or cut corner in terms of quality of materials and rather compete on product quality than price. The firm was doing monthly sales of about HK$30,000 and making about 1200 flashlights and 5000 bulbs per day. Its products were exported to markets such as Thailand, the Philippines, US, UK, India and Peru but limited sales to Dutch Java due to import duties. 
Outside of Sing Chow, Chan Lee-sheung served as chairman of the HK Electrical Association, vice chairman of the CMA, director of education of the Confucian Association and vice chairman of the South China Athletic Association. In 1936, the HK Electrical Association organized a fundraising committee to raise funds for the purchase of warplanes for the Nationalist in celebration of Chiang Kai-shek's 50th birthday and Chan was one of the 9 fundraising committee members alongside Chan Ching-to of Wah Mei Electric, Chiu Hip-ting of Chung Yuen Electrical (see articles) and Lo Chek-po (羅澤溥), later founder of battery maker Gold Peak Industries (KSDN, 1936-9-17). The next year, the Sun Yat-sen University war relief group came to HK and Chan personally helped the group visit various torchlight factories and raised 800 torchlights and batteries which were sent to the front. After the Japanese occupied Canton in 1938, Chan and his fellow schoolmates re-established the Nam Mu Middle School in Hong Kong with himself elected as its chairman. 
After the War, Chan Lee-sheung spent most of his time in Canton and on May 31, 1949, he died at the Red Cross Hospital in Canton. (WKYP, 1949-6-11) Chan was the father of four sons – Chan Sun-tse (陳信始), Chan Yam-tse (陳任始), Chan Hop-tse (陳俠始) and Chan Kin-tse (陳健始) – and two daughters. His eldest son graduated from Shunkan University while his second son graduated from Sun Yat-sen University and both worked as engineers for the War department of the Nationalist government in Chungking during the War. His eldest son was a metallurgy expert and was on the executive committee of the Guangdong People's Congress before his death in 1986.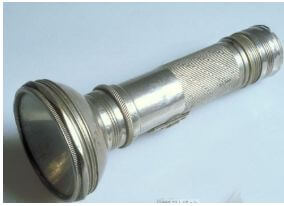 A Sing Chow flashlight. (Canadian Museum of History) 
In the 1950s and early 1960s, Sing Chow's address was listed as 4 Wing Hing Street in Causeway Bay and was listed as manufacturer of kerosene lamps in addition to torchlights and electric bulbs with Y.K. Tam (譚彥綱) as its manager. (HK Chinese Merchant Almanac, 1954; Kelly's Directory of Merchants,1963) By 1969, the firm's address was listed as 340 Fuk Wing Street, the Wai Tak Industrial Building developed by the Hung family discussed in another article. (AA Far East Businessman's Directory) 
As a firm, Sing Chow Electric was incorporated in 1950 and dissolved in 1987. 
This article was first posted on 10th February 2020.
Related Indhhk articles: