Kin Yick Liong (建益隆) – Real Estate Developer from the 1960s
York Lo: Kin Yick Liong (建益隆) – Real Estate Developer from the 1960s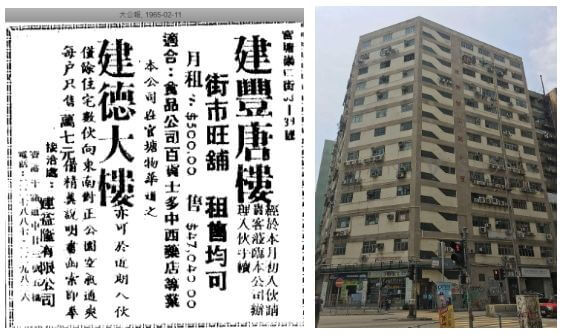 Left: Kin Yick Liong's ad for Kin Tak Mansion and King Fung House in Kwun Tong (TKP, 1965-2-11); Right: Kin Tak Fung Industrial Building in Kwun Tong (Landvision) 
In the 1960s, Kin Yick Liong Co Ltd (incorporated in 1962) was one of the active real estate developers in Hong Kong and had developed at least seven residential/commercial/industrial buildings in HK and Kowloon, all of them except one with the character "Kin" in its names. When the HK Real Estate Developers Association was formed in 1965, Kin Yick Liong and its affiliates Kin Tak Fung Co. Ltd (建德豐) and Tin Tai Investment Co. Ltd (天泰置業, incorporated in 1963, dissolved in 1969) were listed as founding members of the organization. The firm had maintained a very low profile and the only news item in recent decades was when it filed a lawsuit in 2017 against a holding company controlled by Tan Chang-an (譚長安), the founder of the once popular hotpot restaurant chain Tanyoto (譚魚頭) over unpaid rent of $760,000 related to the ground floor unit at 405-419 Lockhart Road in Wanchai owned by Kin Yick Liong. 
Little info is available about the founder and owners of Kin Yick Liong. From articles in 1963, it is established that Kin Yick Liong was affiliated with two firms – Nam Yek Hong (南益行) and Yue Liong Trading (裕隆貿易) and they all relocated to 23 Connaught Road Central (since renamed the Heung Lam Building thanks to donations by the Sum family of Blood Protection Co, see article) that year. (TKP, 1963-7-13).  According to business directories, Nam Yek Hong is involved in the storage business and Jimmy Lee Yee-liong (李義隆) and Lee Yee-yue (李義裕) are affiliated with the firm. The Lee family is the beneficial owner of 290,000 shares of Hang Seng Bank worth over $50 million and Jimmy Lee was also listed as an attendee of the Annual shareholder meeting of HK Exchange. The only time Jimmy Lee made the headlines was when "Keen Winner", the horse he co-owned with SHK Properties deputy managing director Victor Lui Ting and Lau Chi-wah won the Hong Kong Derby in 2000. 
The original office for Kin Yick Liong before moving into 23 Connaught Road Central was located at 39 Bonham Strand West.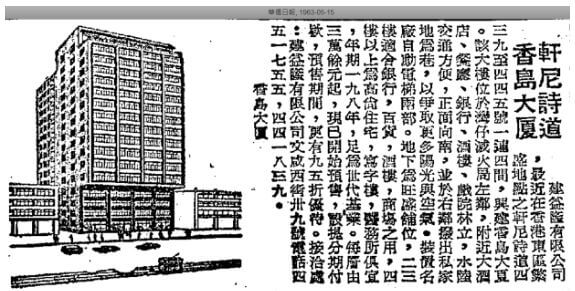 Advertisement for Island Building on Hennessy Road in 1963 (WKYP, 1963-5-15) 
In 1963, Kin Yick Liong developed Island Building (香島大厦) at 436-445 Hennessy Road in Wanchai with retail/commercial space in the first three floors and residential units selling for $33000 each. The same year, it also developed Kin Yick Mansion (建益大樓) at 15-15C Belcher's Street in Kennedy Town.  
In 1965, the firm shifted its focus to the rapidly developing industrial district of Kwun Tong where it developed two residential buildings – Kin Tak Mansion (建德大樓) in 93-115 Hip Wo Street and Kin Fung House (建豐樓) in 33-39 Shung Yan Street. As shown in the ad above, each ground floor retail unit of Kin Fung House was selling for $47040 or for lease at $500 per month while each residential flat of Kin Tak Mansion was selling for $17000. (TKP, 1965-2-11) 
In 1970, Kin Yick Liong completed Kin Liong Mansion (建隆樓) at 16-30 North Street which had residential units starting at HK$30000. This was followed by the 13 story Kin Tak Fung Industrial Building on a 13700 sq ft site at 174 Wai Yip Street in Kwun Tong. (WKYP, 1970-2-19) 
In 1984, the 19 story Kin Tak Fung Commercial Building was completed at 467-473 Hennessy Road in Causeway Bay, not far from the Island Building.  
Sources (other than those cited above): 
https://tw.appledaily.com/hkad/realtime/20190804/1_59891334
https://orientaldaily.on.cc/cnt/news/20170610/mobile/odn-20170610-0610_00176_124.html
This article was first posted on 24th February 2020.
Related Indhhk articles: