Sugar Street 糖街, Causeway Bay – origins of the name – silver into sugar or vice versa!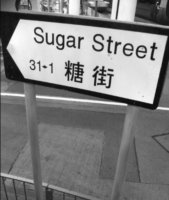 HF: In his book, The Atlas: Archaeology of an Imaginary City, a mixture of fact and fiction about Hong Kong in the past and future, Dung Kai Cheung, Louis, writes about Sugar Street (糖街) in Causeway Bay.
Dung recounts the local legend that the Hong Kong Mint, based there from 1866 to 1868, failed because, in spite of melted silver being poured into the machinery "sparkling white sugar grains emerged". (1)
This has apparently passed on into current local folklore.
It is also reported that Queen Victoria became addicted to the Sugar Street's brand of sparkling sugar.
Or….another Industrial History fairy tale cum myth. After the acquisition of the street's China Sugar Refinery factory by Jardine's, raw sugar was fed into the new machinery, which was apparently turned inexplicably and wondrously into glinting sweet-tasting silver coins.
In fact the factory was destroyed by the destructive 1874 typhoon and its entire stock swept into the harbour. But…fishermen fishing there reported that their catch, after the typhoon had abated, tasted bizarrely sweet!
Confirmation of the connection between Sugar Street and the China Sugar Refinery Company is provided in the wonderfully dipperble, Signs of a Colonial Era. "Sugar Steet in Causeway Bay is named for the China Sugar Refinery Company, which Jardine Matheson founded there in the early 1870s. It was destroyed in 1874 by a typhoon. This street name is pretty straightforward: 糖 tong means sugar." (2)
Sources:
Atlas: The Archaeology of an Imaginary City, Dung Kai-cheung, translated by Dung Kai-cheung, Anders Hansson, and Bonnie S. McDougall, Columbia University Press, 2012
Signs of a Colonial Era, A Yanne and G Heller, HKU Press, 2009
Related Indhhk articles: