Coal in Hong Kong – initial notes
HF: It was never mined here. So this article is an initial attempt to put together what little we have about importing coal and how it was used in Hong Kong: transport, manufacturing, utilities, shipping, domestically…can you add to this article? I have also included charcoal and for general interest information about and images of China and Taiwan/Formosa on these subjects.
All linked articles are Indhhk Group unless stated otherwise.
Charcoal
Coal Boats 
Coal Bunker
The Oriental Ship Supply Company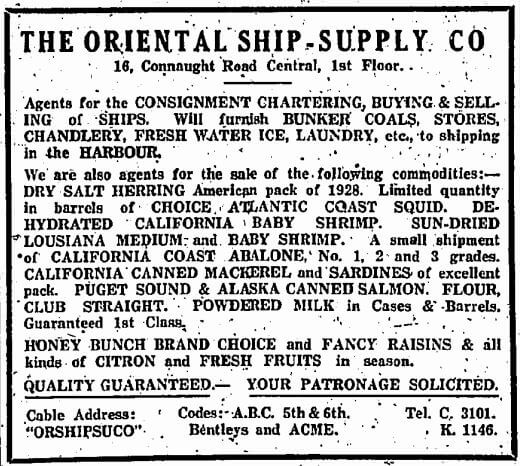 Coal Bunkering
Coal Godowns
Mr Murrow's Coal Godowns
Coal Imported
The Chinese Engineering and Mining Company
The Chinese Engineering and Mining Company, 1900-1949 (1984)
Laukawanna Coal
Is this from the Lackawanna Coal Mine , Scranton, Pennsylvania? 

Coal Merchants
Wang Kee & Company
York Lo: Wang Kee(宏記) – A Century of Service in the Port of Hong Kong
The Asia Coal & Briquetting Company Ltd
Coal Mines
Japan Coal – Mitsubishi Shoji Kaisha
Kaiping household coal –The Kailan Mining Administration
Sze Wai & Company
Hop Hing Coal Merchants
Ying Kee coal shop
Ying Kee Hard Coal shop, Peel Street, Central
Gas
The Hongkong and China Gas Company Ltd / Towngas – 150th Anniversary 2012 – superb photographs
Green Island Cement Company
World War Two -1945 BAAG report on occupied Hong Kong – [Green Island] cement works
North Point Store unless corrected it is presumed that the following images are all at the North Point Store location
Peak Tram
"The original boilers and steam engine were in any case probably due for replacement before long on account of their age. But a stronger incentive for electrification was no doubt the anticipated savings in coolies' wages paid for hauling coal up from the docks, almost 400 metres below." Unknown source – possibly from a HK & Shanghai Hotels group publication/newsletter.
Power Stations – using Coal
Castle Peak 1982 to present
Hok Un 1921 to ?
Hok Un A 1940 to 1991?
Hok Un B 1950 to 1991
Hung Hom 1903 to ?
Lamma Island 1981 to present
North Point A 1919 – 1950s
North Point B 1958 – 1989
Wanchai 1890 – 1922
Ship to shore
Ships
Sugar
Taikoo Sugar Refinery
The Taikoo Sugar Refinery
The Taikoo Sugar Refinery – Bullivant's Ropeway for transporting coal from ship to shore
Water Supply
Public Works Office – Filter Beds, Pumping Stations, Reservoirs, Stores
World War Two
Coal Supply during the Japanese Occupation
World War Two -1945 BAAG report on occupied Hong Kong – coal supply
The undated image shown on the Home Page is of the KCR.
This article was first posted on 26th October 2015.
See:
Historical Photographs of China This project aims to locate, digitalize, archive, and disseminate online photographs from the substantial holdings of images of modern China held mostly in private hands outside the country.
Related Indhhk articles: