Collection and export of metals, vehicles, machinery etc during the Japanese occupation, WW2, Part Two 1944-1945
Elizabeth Ride has sent a number of British Army Aid Group (BAAG) reports regarding Japanese efforts to collect metals, vehicles, machinery, coins etc for export, mainly to Japan, during their occupation of Hong Kong (WW2).
HF: She has kindly added references to assist searching.
KWIZ #66, 15.9.44 Copper, iron, brass, wolfram, Hip Tung Wo Engineering Works


KWIZ #68, 29.9.44  Fire engines.


KWIZ #69, 6.10.44   Copper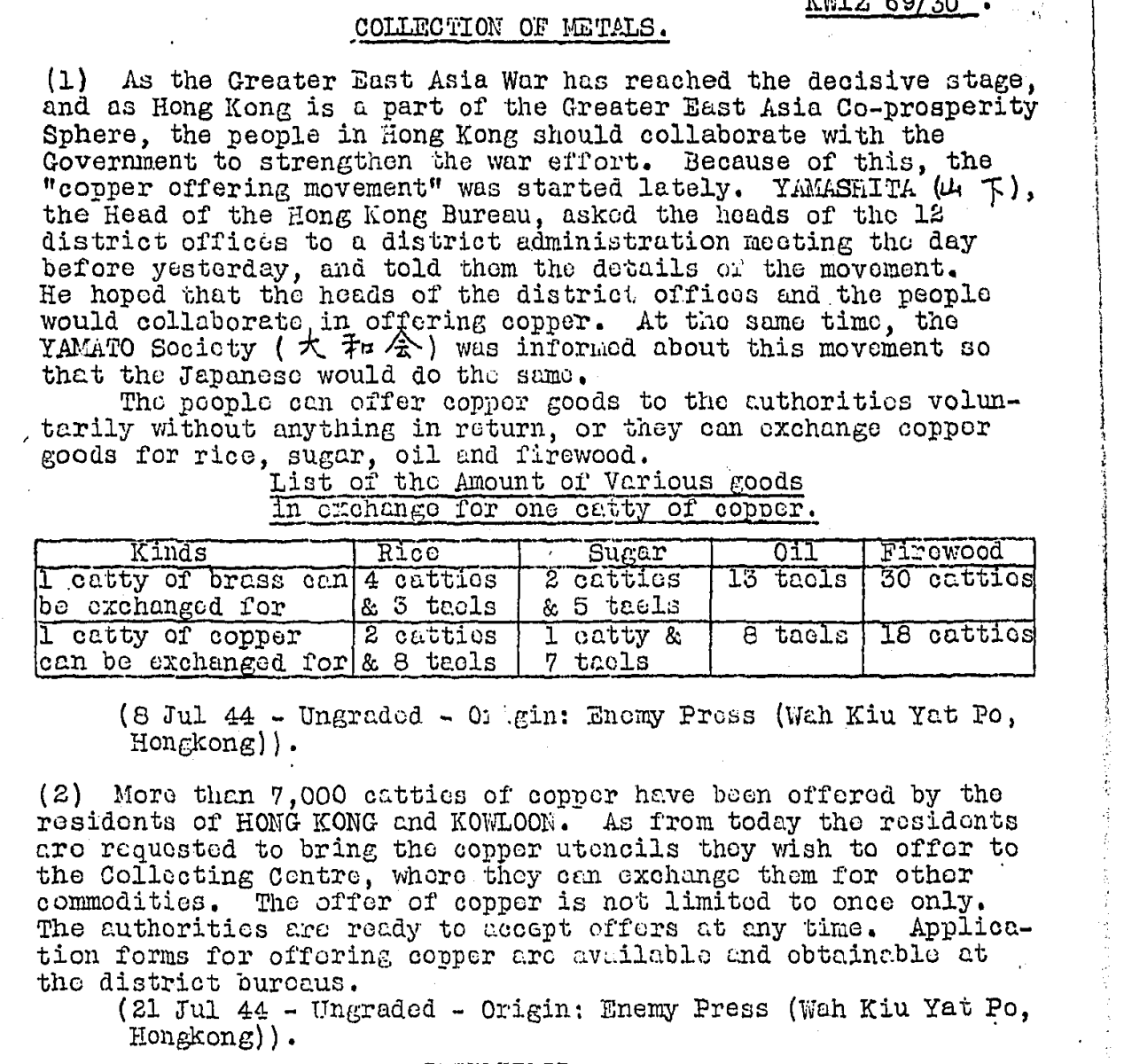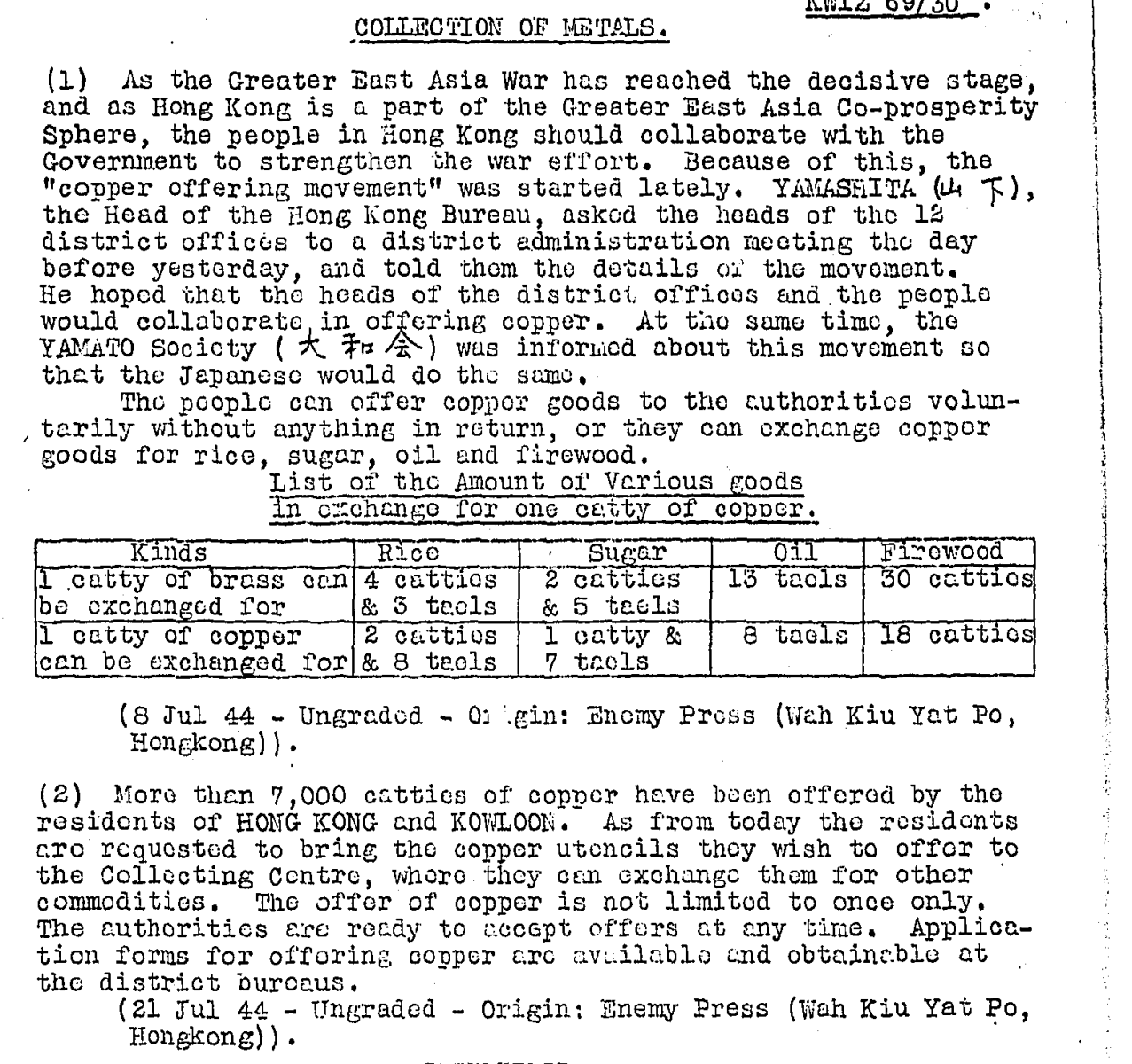 KWIZ #70, 13.10.44.  Machinery, Hong Kong Steam Laundry, HSBC bronze lions.
KWIZ #72, 27.10.44  pipes and drains, HSBC bronze lions, brass, antimony, tram wires electric cable.
KWIZ #75, 17.11.44.  Machinery, scrap metal, power station,


KWIZ #77, 15.12.44.  Materials from Hongkong Oxygen Factory, materials from South China Iron works (not to Japan).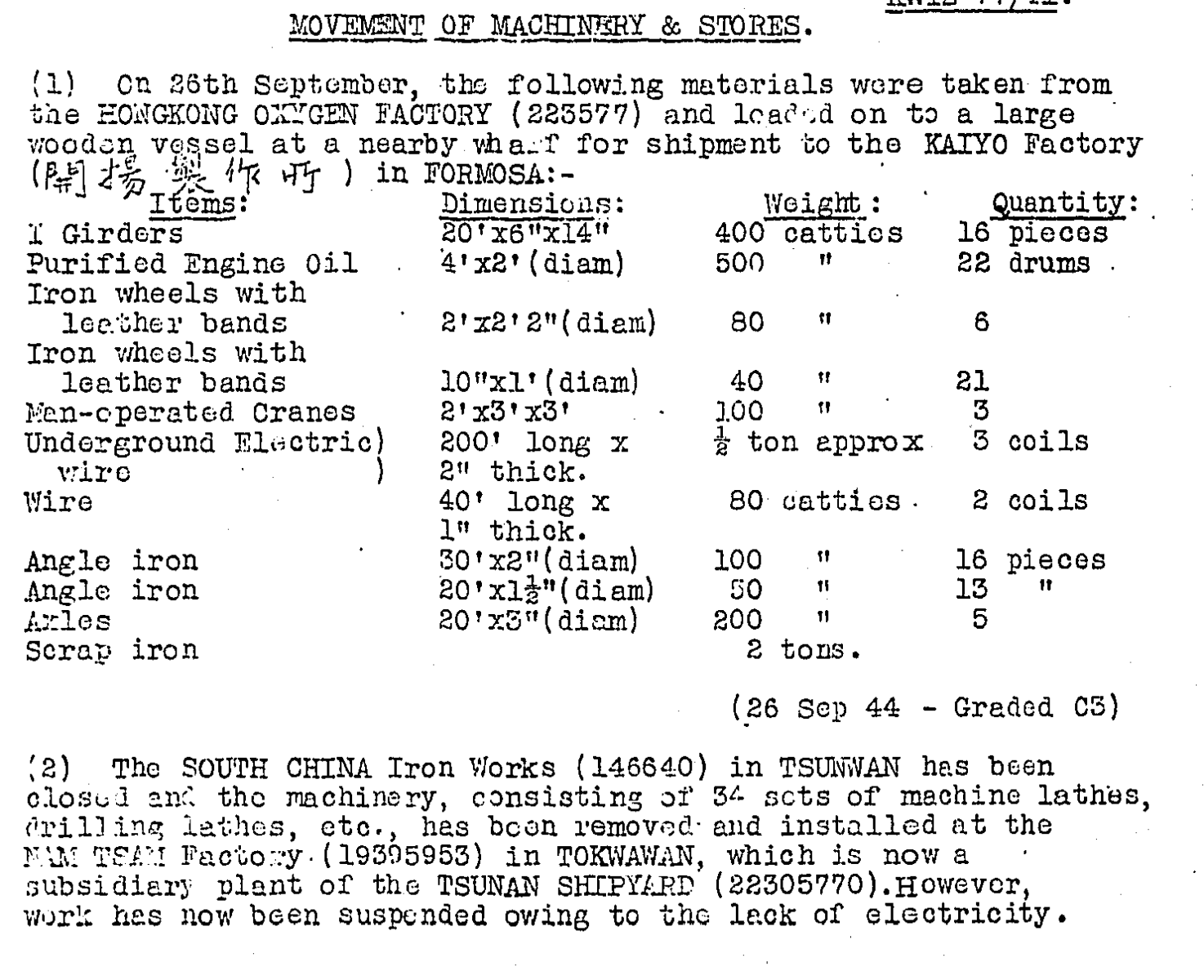 KWIZ #79, 29.12.44.
Collection of Metals.  In mid-December the people of Hongkong and Kowloon were requested by the Japanese to submit details of all copper, brass and aluminium articles in their possession.  (BAAG comment: Repeated metal drives have been made during the year.)
KWIZ #80, 5.1.45.
Taikoo Sugar Refinery.  The Japanese are dismantling the machinery of the Taikoo Sugar Refinery, 700 Chinese labourers being employed daily on the job.  They have already cleared the Refining House and the top three stories of the Pan House, together with eleven boilers from the Boiler Room, 3 donkey boiler pumps, and one 5,000 kw and two 2,500 kw generators from the Power Station which formerly supplied power to the Taikoo Dockyard.  This machinery is now stored in a godown on the East side of the compound as well as on the Taikoo Wharf, awaiting shipment.
China Light Power Station.   Four out of the seven generators in the China Light & Power Main Station have been removed, and in addition all 5 and 10 hp motors.
KWIZ #82, 19.1.45.
Green Island Cement Works.   According to a foreman, part of the machinery was shipped to Java in October 1943.
KWIZ #83, 26.1.45.
China Light and Power, Hong Kong Electric, Naval Dockyard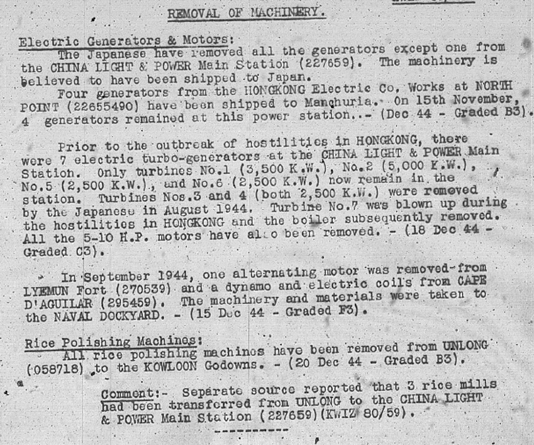 Collection of metals.   In mid-December 1944, the Japanese circulated forms to all residences in Hongkong and Kowloon requesting recipients to state whether they were in possession of any copper, brass or aluminium.
This article was first posted on 10th July 2015.
Further information:
For general information about the Elizabeth Ride collection, her father Sir Lindsay Ride, and the British Army Aid group during WW2 a very useful introduction is through http://gwulo.com/node/13968
The BAAG papers are kept at the  Hong Kong Heritage Project
The Index contains many articles using BAAG reports from WW2. And about industry in HK during that time.
Related Indhhk articles: