Tung Tai Shipbuilding Yard during the Japanese occupation 1942-1945
Elizabeth Ride has sent this brief extract from BAAG Intelligence Summaries written during the Japanese occupation of Hong Kong, World War Two and an accompanying sketch of the yard.
She also sent a BAAG trace map of February 1945 of the north shore of HK Island. Below is a small portion of the map, enlarged but still reasonably clear, showing the location of the Tung Tai Yard at the eastern exit from the Causeway Bay typhoon shelter.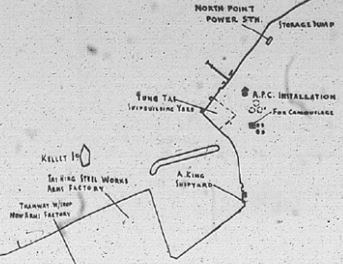 ER has come across clearer copies of the BAAG sketch map and key showing Tung Tai Shipyard that those shown when this article was first posted. The map coordinates are also clearer.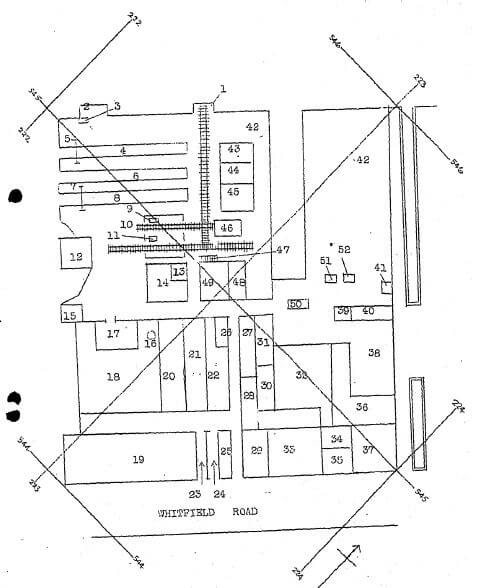 The Tung Tai Shipbuilding Yard at Causeway Bay, together with Ah King´s Shipyard nearby, form the No 2 Branch of the Lamma Shipyard.  Construction and repair of wooden auxiliary vessels are undertaken here.  Between July and November 1944, 2 diesel-driven sailing vessels were built.  In December 1944, a third sailing vessel was under construction.  Prior to July 1943, there were only 2 slipways, but 2 more have since been added.  About 1100 Chinese are employed, many of them were engaged from Canton.  Working hours are 0800-1230 hrs and 1310-1800 hrs.  Hours for overtime , now (1945) infrequent, are 1800-2400 hrs.  Power is still supplied from the North Point Power Station, but is used only when necessitated by essential work.  This restriction, together with the shortage of metals, has prevented the yard from expanding its work.
This article was first posted on 2nd August 2015.
Further information:
For general information about the Elizabeth Ride collection, her father Sir Lindsay Ride, and the British Army Aid group during WW2 a very useful introduction is through http://gwulo.com/node/13968
The BAAG papers are kept at the  Hong Kong Heritage Project
Related Indhhk articles:
Smaller Shipyards in Hong Kong during the Japanese Occupation 1942-1945