Stone breaking in early 20th Century Hong Kong
Hugh Farmer with thanks to IDJ for the source of information.
"Stonebreakers in the early twentieth century.
Granite in Hong Kong is of high quality and abundant. As a common construction material for columns, door frames and floors, the demand for granite was large. Because of its weight granite was transported by stone-boat by water from the quarry to the construction sites. Consequently many granite buildings were constructed at the waterfront.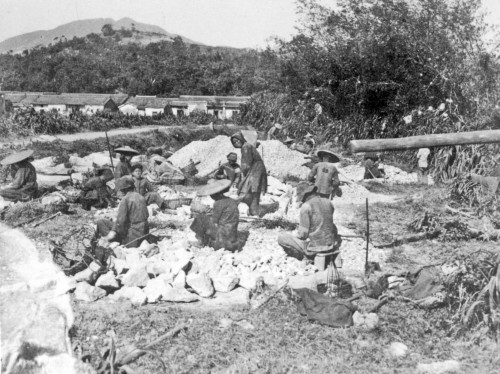 Stone breaking operated manually before the introduction of stone crushers was a tough job. Labourers first spent a few hours drilling into the stone hill after which poles of dried wood would be forced into the drill holes. Water would be poured onto the wood so that it would expand. The stone would then crack off the stone face and could then be polished; broken pieces could be crushed into gravel. Buyers could inform the stone quarry of the form and quantity of the stone required. Stone breakers would then follow their order to work. These two photos show pieces of stone being broken up by stone breakers.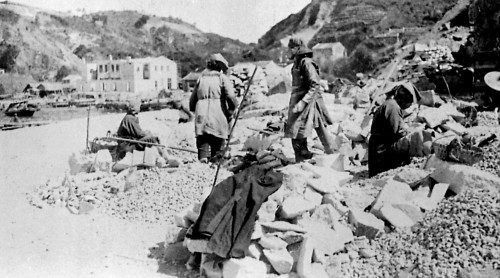 Coastal quarries included those in Sai Wan Ho, Shau Kei Wan, Quarry Bay, Shek Tong Tsui, Tai Kok Tsui, Tsim Sha Tsui, Hung Hom, To Kwa Wan and Kwun Tong. The Sacred Hill had once been quarried but because of respect  to the he Song Emperors extraction of stone was soon forbidden. With the popularisation of cement in the 1920s  this lead to the decreasing demand for stone. In the 1930s when machinery began to be used to open up quarries manual stone breaking further declined. Hand quarrying gradually phased out in the 1960s with the introduction of stone crushers and mechanised quarrying equipment.
There were many small-scale private quarries before 1966. One might run a quarry as a long as a business permit was obtained. The last licensed private quarry closed down in 1974. All quarries in Hong Kong have been operated by the government."
Source: "Images Through Time Photos of Old Hong Kong", published by Hong Kong Museum of History
See: For more information about Sacred Hill  http://en.wikipedia.org/wiki/Sung_Wong_Toi
Related Indhhk articles: