Messrs Barretto & Co – managers of The Imperial Brewing Company 1907
Hugh Farmer: IDJ has sent these images of Messrs Barretto & Co. The company, established by the two gentlemen below  in 1895, had a large range of business concerns in Hong Kong. We are probably most interested in the company's involvement with the Imperial Brewing Company.
"An industry only recently, started in Hongkong is that carried on — under the general management of Messrs. Barretto & Co. — by the Imperial Brewing Company, Ltd., which was formed in 1905, and commenced operations in December, 1907, as soon as the necessary plant had been erected."
The images will double magnify.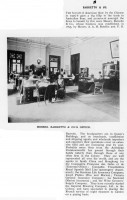 Top: AAH Botelho
Bottom: FD Barretto
Source: Twentieth Century Impressions of Hongkong, Shanghai, and other Treaty Ports of China (1908)
edited by  Arnold Wright. 
This article was first posted on 7th March 2014.
Related Indhhk articles: The Imperial Brewing Company 1907