The luxurious junk Cheng Ho, Ah King shipyard built, Standard Oil connection…
Stephen Davies/Hugh Farmer
SD: The largest vessel I know for certain to have been built at the Ah King yard, in 1938/39, was the wonderful exploration junk Cheng Ho, 100ft long and with the most marvellous history.
She was built for Ann Archbold, daughter of the founder of Standard Oil to amazingly extravagant specs (some of the interior shots are of great luxury) who, "in 1939 … financed the construction of a diesel powered copy of a 15th-century Chinese junk, and supported, and participated in, two botanical cruises of the Cheng Ho in the East Indies and the Pacific, collecting seeds, cuttings, rooted plants, and tubers." (1)
The story begins…"Even after traveling the world extensively, in the late 1930s [noted botanist] David Fairchild was still dreaming of collecting plants in the exotic islands of the Dutch East Indies. He had discussed his plans with many people, and in 1939 he felt the time was finally right for his trip.
Ann Archbold, daughter of the co-founder of Standard Oil, finally found the solution. She was enthusiastic about funding an expedition, and even participating herself, but it was apparent that this trip needed its own custom-built research ship. Ann agreed to have the ship built, and recruited Ted Kilkenny, an experienced yachtsman and adventurer, to build and captain the ship.
And what a ship it was! Built in the Ah King shipyard in Hong Kong, it was classified as a junk by naval architecture, but a yacht by Western standards. The Cheng Ho's 100 foot length easily carried the 19 passengers and crew and included hand carved teak, Chinese porcelain and inlay work, electric lights, baths and showers, a laboratory for Dr. Fairchild, a darkroom, and many other exotic and comfortable furnishings. (2)
Here is the Cheng Ho being built with one of the timbers that made up the keel being worked on, at the Ah King yard. A fine example of pre-WW2 HK wooden shipbuilding.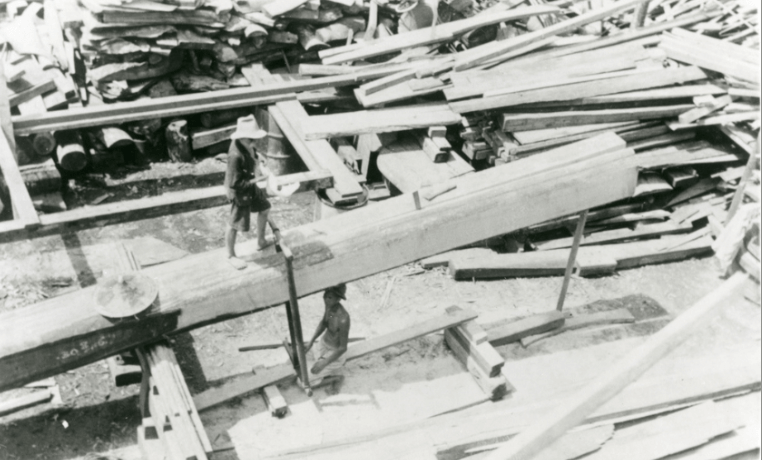 And here the vessel in the Causeway Bay typhoon shelter not far from the RHKYC not long after launch.
She had an adventurous botanising voyage, under Fairchild, through the Philippines and Indonesia. Here she is en voyage: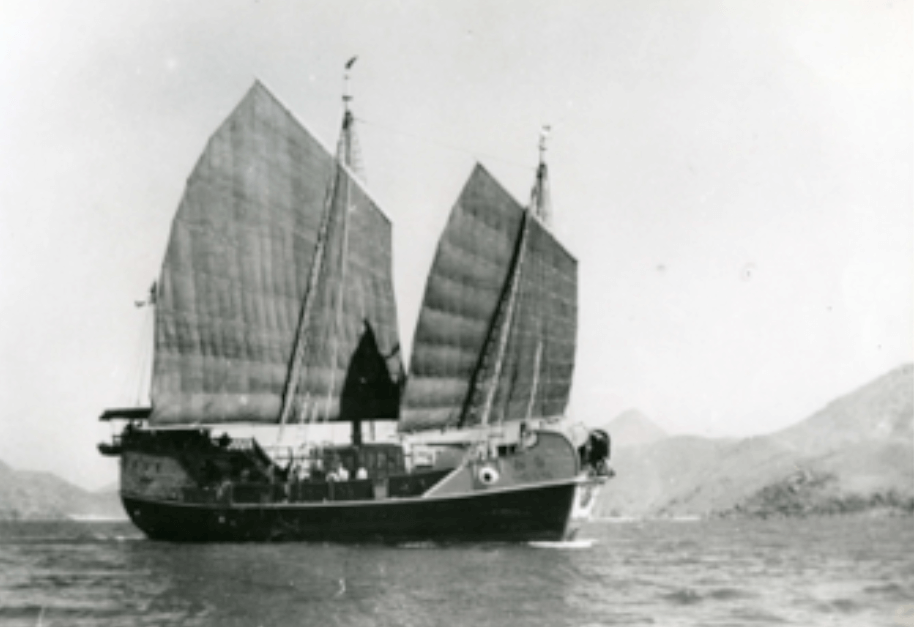 The dining room with Ann Archbold.
Fenton Kilkenny, probably the youngest member of the expedition and the only one still living (as of late 2009) at the helm of the junk.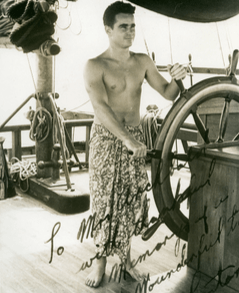 The onset of war made further progress impossible. At that point the vessel went to Hawaii where it was given by the owners to the US Navy (formally bought by the USN for US$1), becoming IX52 USS Cheng Ho armed with one single, dual purpose 3"/23 cal gun mount, and was in the navy at the time of Pearl Harbour.
She served through the war as a patrol vessel and returned to her owner in 1946. She was last seen, a wrecked derelict on a beach in Papeete, Tahiti in 1990.
Ah King's boats have travelled!
Sources:
See:
With thanks to the Fairchild Tropical Botanical Garden, Coral Gables, Florida, US http://www.fairchildgarden.org/Visit
Related Indhhk articles: