George M. Lau – Father of the Hong Kong wig Industry
York Lo: George M. Lau – Father of the Hong Kong wig Industry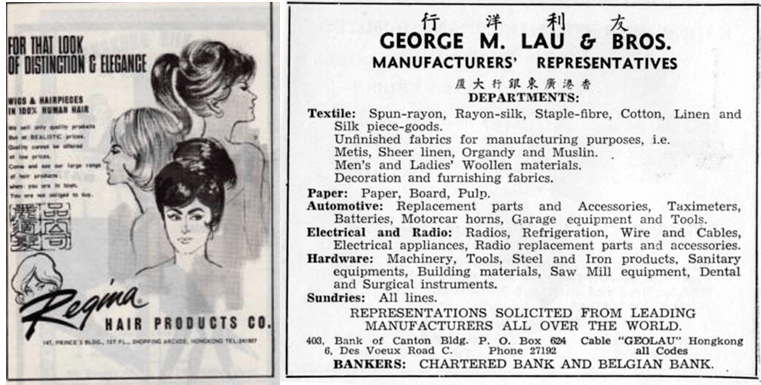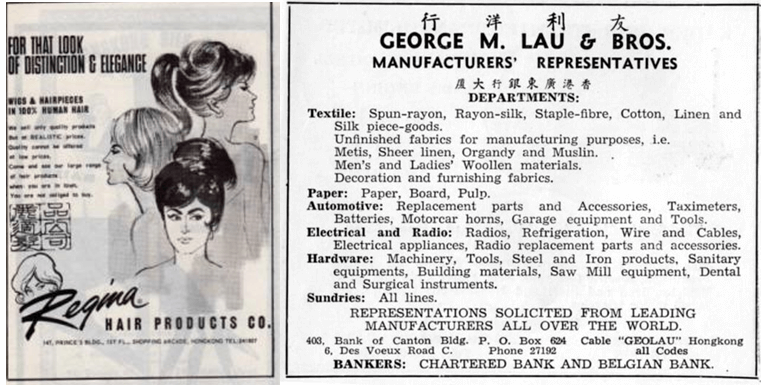 Left: Advertisement of Regina Hair Products from the early 1970s; Right:  1953 ad of George M. Lau & Bros. (Source: IDJ)
In 1970, the Hong Kong wig industry included 478 factories which employed 5 percent of the city's total workforce (39000 workers) and its export value of HK$936 million represented 8% of total exports and 40% of global wig production, making wigs the 5th biggest export from the colony. This was all the more remarkable considering that the industry only began in HK a decade before with the first factory founded by George M. Lau (劉文漢,1913-1986), a savvy international trader who pioneered the mass production of wigs made from human hair and synthetic fiber in Hong Kong. (A forthcoming separate article will cover other players in the industry and more on the pricing and sourcing dynamics.)
George's father immigrated to Australia to work as coolie in the Victorian goldfields from his native village of Toishan in Guangdong province. When the gold went out, he walked to Adelaide where he found work as a tailor and where George was born. After graduation from Lingnan University in Canton with a degree in economics, George formed George M. Lau & Bros (友利洋行) in 1939 with his brothers to distribute auto parts in HK and Southern China. According to the Directory of HK, Canton and Macao in 1949, the firm's agencies included auto parts from American manufacturers such as Sparton (car horns), Automotive International from Chicago and Consolidated Wire, and also hardware, garments, paper goods from the UK, Switzerland and Scandinavia. The full range of products which George M. Lau & Bros represented could be found in the 1957 ad shown above. George M. Lau (HK) Ltd as a firm was incorporated in 1954 and the family also operated Galaxie Arts & Gifts, an arts and antique dealer.
There are two versions of the story of how George Lau got into the wig business. The version from various Chinese publications is that he first learned about the business opportunities associated with wigs from two American businessmen in 1958 during a business trip to Cleveland, Ohio for his trading business. After he returned to Hong Kong, he found out he could make 5 times profits making wigs so he consulted a wig maker for the movie studios, who told him that it would take over a month to make a wig. He hired the wig maker as a consultant and together they developed a sewing machine (a Singer converted to fit human hair which are thicker than artificial hair) that could produce wigs at a much faster pace and at a lower cost and started the first wig factory in HK. The second version from English articles is he met a French wig manufacturer in Paris after the War who challenged him that he could not make wigs as well he could in HK and soon he was able to make wigs within a day for what took the Frenchman two weeks. Lau started two wig factories – Regina Hair Products Factory (麗適人髪品廠) which focused on the higher end wigs made of human hair (sourced primarily from India and Indonesia) and was named after his wife Regina Lam (林媛珍) and Rogaile Hair Products Factory (麗嘉髪品廠), which focused more on artificial hair. (both of above firms were incorporated in 1967 but founded earlier) A retail outlet was also opened at Prince's Building in Central under the Regina name. Business took off and by 1964 Lau was doing close to HK$3 million in sales in an annualized basis (almost all of it going to America), offering 16 different shades and 6 different thicknesses with 9 months orders on hand. Eventually his operations moved into Regina Industrial Building at 8 Kwai Chow Street in To Kwa Wan.
The success of Lau led to many imitators and by the late 1960s, there were hundreds of players. However, Lau managed to maintain a leading position in the industry. In 1971, the HK Human Hair & Fiber Manufacturers Association was founded with the support of the Chinese Manufacturers Association and George Lau was elected its first chairman with Ms. Chan Oi-lok (陳愛洛) as vice chair.  The same year, Regina expanded overseas and established a plant in the outskirts of Kuala Lumpur.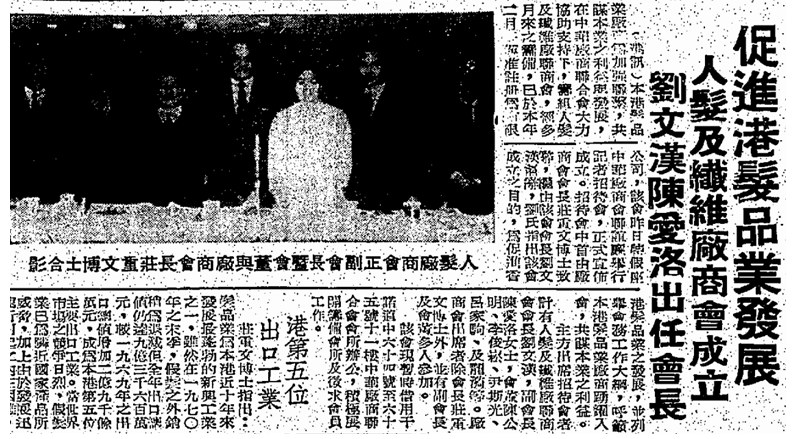 Article about the formation of the Wigs Manufacturers Association in 1971 with George Lau as chairman. Also in the picture was CMA chairman Chuang Chung-wen (Source: 華僑日報, 1971-03-17) 
Just as the HK wig industry gained critical mass, it took a drastic turn in the early 1970s as the global wig trend subsided and human hair wigs were displaced by synthetic fiber, many of them from South Korea which were significantly cheaper than HK ones. By 1973, total HK wig exports had dropped 90 percent from the peak in 1970 to HK$104 million and by 1976, number of players had dropped to 29 employing 800 workers. The flexible Laus changed Rogaile's name to Rogaile Diversified Products in 1972 to make other products and also set up an artificial flower plant in South Korea. In 1982, George Lau made another first by acquiring the Southern Vales Co-operative Winery in McLaren Vale, Southern Australia out of receivership. Under Lau's direction, the winery began exporting to Asia and was the eighth largest in Australia, producing 2 million bottles a year. Lau placed his son Roland Lau in charge but the family decided to sell in 1993. Back in HK, Regina and Rogaile were dissolved in 2002 and George M. Lau (HK) Ltd was dissolved in 2006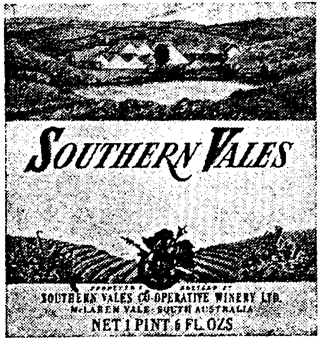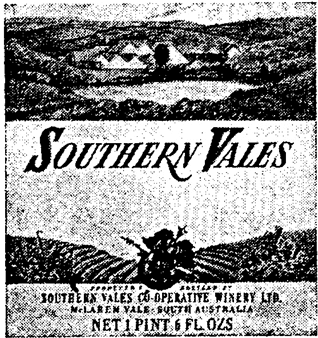 Label of Southern Vales Winery, George Lau's venture in Australia
Sources (other than the ones listed above):
http://www.scmp.com/magazines/post-magazine/article/2069441/beehives-and-buns-when-wigs-were-big-and-hong-kongs-human
Leary, R.H. "Scalp Hunting in Kowloon" Far Eastern Economic Review, 1964
Trade, Industrial Restructuring and Development in Hong Kong, 2016
Related Indhhk articles: