Film Studios, Hong Kong – dates, locations, layout, founders…
Hugh Farmer: If you can add further information on these or other studios please add a comment or email me directly: at indhhk at gmail dot com. 
Thanks to IDJ for informing me about the illuminatedlantern.com website, linked below, from which I have added to our initial information. Source (1).
HF: Philip Edward Kenny who runs the absorbing website about HK film locations, hongkongandmacacufilmstuff , linked below, kindly posted a comment in response to the article, A Brief History of Hong Kong Cinema to 1988 – Film Studios and Personalities. I have inserted these comments into this article which focusses on Film Studios and to a lesser extent about Film Production companies in Hong Kong. The two appear to frequently overlap.
As he says this is a huge subject, there have been hundreds of studios and film companies in Hong. And complicated as they frequently changed name, split into different companies, took over existing studios, and so on.
Below Philip's comments I have begun a list of HK Film Studios. I have initially incorporated studios he mentions with his notes. Plus I have tracked down those that made at least twenty films, an arbitary number but indicating both substance and longevity, though in this industry the latter could a matter of four or five years.
I have indicated the usual English name of the studio, the date it started and closed, and details about its location, history, layout and people involved.
It would also be great to post photographs or other images. Can you help?
Philip's comment: Golden Studios was indeed Golden Harvest's studios off Hammer Hill Rd. Before GH, it was leased by MP&GI/Cathay. When Cathay withdrew from film production in HK, GH took over their old studios and in reciprocation, Cathay were given exclusive distribution rights to GH films in Malaysia and Singapore. I believe it was owned by the Union Film Company before MP&GI moved in. The site is now Kingsford Terrace.
Another smaller studio, Asia Studios, was located just down the road at the entrance to King Tung St and is now Sun Lai Garden. Wader studios, once the largest in HK, were along Castle Peak Road near Tsuen Wan.
It's a vast topic. There were many studios, some big some small, some owned by production houses (like Shaws and GH) and some owned by third parties who just leased the stages to film makers. There was a plethora of smaller production houses, and studios in the Diamond Hill area. Some made Canto and Mandarin films for the local markets, some made Chiuchow and Hoklo films for the overseas Chinese markets. But pretty much all of them have fallen by the wayside as the nature of the film industry changed.
There are still lots of production companies, but only really a couple of actual studios left: TVB and Clearwater Bay Studios – both in the Tseung Kwan O area. I'm not sure if CWB even has a sound stage any more – perhaps it only offers post-production facilities? Of course, most film companies these days can hop into China if they need large sound stages or studio sets (Hengdian and Nanhai spring to mind but I am sure there are many more).
Asia Studios was located at the entrance to King Tung Street, Diamond Hill. The site is now Sun Lai Garden.
Bo Ho Films Co Ltd 1982
BOB & Partners Co Ltd 1995
Brilliant Idea Group (BIG) 1997
Cathay Asia Film 1965-1970 In 1955 Yonghua Fim Company relocated from Kowloon Tsai to Hammer Hill Road, Diamond Hill. Cathay took over this company and it  was renamed the Motion Picture and General Investments (MP&GI) studio.
When Cathay withdrew from film production in HK Golden Harvest took over Cathay's studios and in reciprocation Cathay were given exclusive rights to GH films in Malaysia and Singapore.
China City & Film Company 1980
Cinema City & Films Company (新藝城影業公司) better known as Cinema City. The company was established in 1980 by actors Raymong Wong, Karl Maka and Dean Shek. 65 films made between 1980 and 1991. Film Studio(s) – where did the company make its films? Philip adds: As far as I know Cinema City were just one of hundreds of production companies in HK. Only a few companies actually had physical studios.
Clearwater Bay Studios 1959-  This studio is located in Clearwater Bay and was created through the investments of overseas Chinese. At various times studio bosses were Lu Yuanliang and Liu Huanyi. The studio lot included three sound stages and many exterior sets. It featured a dormitory for its staff.  In the 1970s the studio increasingly rented out to companies making TV series and adverts.
Da Zhonghua  Film Studio (Great China)  1946-1949  The studio  was located at Pak Tai Street in Mau Tau Wai / To Kwan Wan formerly the domain of the Nanyang Film Company and was rented by the Great China Film Development Co. Great China was founded by Jiang Boying. In its three years of existence the company produced a toral of 43 films in Mandarin and Cantonese. Its first production was Gone Are the Swallows when Willow Flowers Wilt made in 1946
Daguan Film Studio (Grandview) 1936-1954 Located at To Kwa Wan. Grandview's founder was Chiu Shu Sun. In 1940 the company  bought premises in Diamond Hill and prepared to locate a studio there. However, when Hong Kong was occupied by the Japanese in 1941 all work  in building the studio stopped. Work was resumed after the war and the new studio was inaugurated in 1947. In 1954 the studio was re-organised and renamed the Diamond Hill Studio, run by Chiu Shu Ken.
Diamond Hill studio see Daguan Film Studio
D&B Films 1984
Different Digital Design Ltd 2008
Djauw's Films Studio
EDKO Films
Emperor Motion Pictures
Film Workshop
Golden Harvest/Golden Studios
See the Indhhk article – Golden Harvest Film Studio – Diamond Hill
Golden Princess Film Production Ltd 1989
Goldig Films (HK) Ltd 1972
Grandview Film Company
Great Wall Pictures Corporation 1949-1960 The Great Wall Film Studio was established in 1949 on the premises of the Sai Kwong Studio and the neighbouring Yau Kiu Studio in Hau Wong Temple, in Tung Tau Tsuen Road, Kowloon City. It was run by Lu Jian Kang with the manager being Zhang Shan Kun and the studio manager, Shen Tian Yin. The studio had four sound stages. From 1950 onwards the studio was also rented out other companies for their productions and the studio was renamed Dai Wah, with the studio manager being Lu Yuan Liang. The studio was closed down in 1960 due to the expiry of the lease.
After WWII, Shanghai filmmakers continued to enter Hong Kong, and began a number of leftist movie production companies. One of the largest and most successful of these was the Great Wall. In the early fifties, before Shaw Brothers began producing their own films, they often filled the movie theaters they owned with pictures from Great Wall. The films were often idealistic, but tended not to be overly propaganda filled, and some were simply straight ahead martial arts films, like THE JADE BOW (1966), from which I extracted their logo below. (1)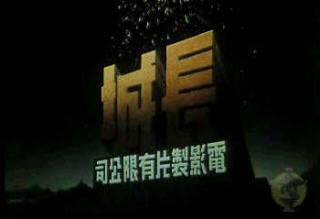 The Great Wall lost its Chinese audience during the Cultural Revolution, and never really got it back; perhaps after a catastrophe like that, even die-hard leftists start trying to look busy doing something else. The production company merged with a few others in the eighties to form Sil-Metropole. In the 32 years of its existence, Great Wall produced over 150 movies. (1)
Hing Ngee Film Company
I would have loved to find the logo for Kong Ngee, a production company that was recently the focus of a retrospective at the Hong Kong Film Archive during the 2006 HKIFF. Couldn't find it. But I did come across this logo for spin-off company Hing Ngee, owned by the same guy, spun off to feature a series of youth films starring the hottest actresses of the late sixties (Conne Chan, Josephine Siao). Amusingly, however, the logo appears to simply be a shot of the company name as engraved on a building, presumably outside the company headquarters: (1)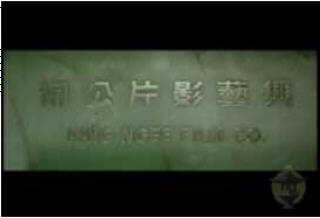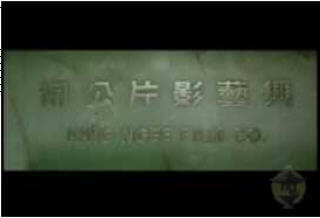 Hong Hwa International Films (HK) Ltd 
Hong Kong Film Company – see Xianhe Ganglian Film Company
IFD Films and Arts Ltd 1973
Imagi Animation Studios (aka Imagi Studios) 2000-2010
Imagi Animation Studios – company website
Imagi Animation Studios – wikipedia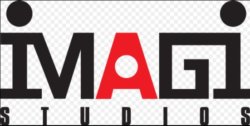 Jing's Production Ltd 1986
Kin Sing Film Studio T 1968-1988 his was formerly the Grandview Studio (which was reorganised twice and renamed the Diamond Hill Studio and the Hong Kong Film Studio. The founders were the Kwan brothers, Chi-kin and Chi-sing. The studio was originally used to make the productions of the Kin Sing Film Company but starting from the 1970s it was rented out to oether companies. In the 1980s one of its sound stages was leased out to B and b Films. The studio ceased operations in 1988
Kong Ngee Company
Lianhua Fim Company
Lianhua Film Company aka United Photoplay Service Film Studio, registered in Hong Kong 1930
Lo Wei Motion Pictures
Mandarin Films 1993
Media Asia Films 1994
Mega-Vision Productions Ltd (MVP)
Mei Ah Film Poduction Co Ltd
Milkyway Image (HK) Ltd 1996
Mingxing / Ming Sing Film Company 1926
Movie Impact Ltd 1986
MP&GI (Motion Pictures & General Investment) [The following is somewhat confusing and needs clarifying.] In 1955 Yonghua Fim Company relocated from Kowloon Tsai to off Hammer Hill Road, Diamond Hill. Cathay Asia Film took over this company and it was renamed the Motion Picture and General Investments (MP&GI) who together leased the studio (?).  MP&GI's manager was Zhong Qiwen. When Cathay withdrew from film production in HK, Golden Harvest took over the old studios.
Of course, one of the biggest companies of the era was MP&GI, which existed from 1956-1965, after which it became Cathay. MP&GI made 140 films, around 80% of which were Mandarin. MP&GI showed audiences a new world of singing, dancing, leisure, and business, and made films about the wealthy or those aspiring to be so, to give audiences something to strive for. Panorama is now releasing some of MP&GI's back catalog on DVD, though it has been slow going and the quality has not always been there. Here's the B&W version of their logo, from MAMBO GIRL (1957): (1)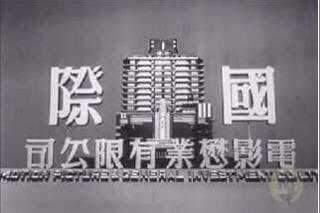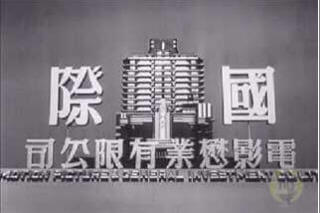 My Way Film Co Ltd 1991
Nanyang Film Company 1937
Ngo Mei
One Hundred Years of Film 1999
Paragon Films
Seasonal Film Corp 1973
Shaw Brothers 1957/1958? The Shaw Brothers Studio was established in 1957 but officially went into operation in 1961. The founder was Run Run Shaw. Since the 1970s (up to 1997?) the studio has been run by Mona Fong. The studio is located in Clearwater Bay occupying over 65,000 square feet with 13 sound stages and many exterior sets. It is the biggest studio in the Far East. Since 1985 (up to 1997?) the studio has been used to make TVB mini-series.
When the PAMAS (Pacific Air Maintenance and Supply Company) hangar was dismantled at Kai Tak airport when the new runway running out to sea was brought into service, it was re-erected at Clearwater Bay as part of the Shaw Brother's film studio complex.
"The Clearwater Bay site was home to the world's largest privately owned film studios at the time of its opening in 1961." SCMP 1/11/14
Smacking down all the other studios on this page with around 800 productions, Shaw Brothers, founded in 1957, ruled the roost until the 70s. Celestial Pictures is restoring the Shaw Brothers library and releasing it to DVD around the world. Lots of fantastic films cranked out by this studio, by top directors Chang Cheh, Chor Yuen, Li Han-Hsiang, Ho Meng-Hua, etc., but it took a huge hit when Golden Harvest got Bruce Lee in the seventies, and as other studios moved to more natural location shooting and new styles, Shaws could no longer compete and withered away to television by the early eighties.
Shaws has at least two logos. I haven't been able to grab the earlier version, but here's the logo and fanfare that martial arts movie fans have come to know and love: (1)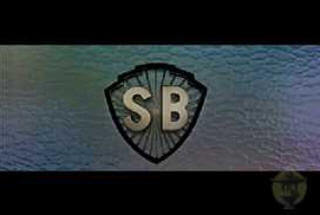 SCMP article 1/11/14 Shaw Studios Project Hits Roadblock This article is about the proposed redevelopment of the 53-year old studios which have been put on hold "because of concerns over much needed roadworks nearby." The plan is to retain the exisiting 11-storey Shaw House for commercial use, to tear down other buildings and construct in their place 41 residential blocks of four to eight storeys, two hostels and two commercial buildings.Shing Fung Film Studio – current 2015 94-95, Sun On Tsuen, Sai Kung http://www.studios.com.hk/index2.php
Shun Yee Film Company 1954
Sil-Metropole Organisation Ltd 1982
Tai Seng / Dasheng Film Company 1948
Teamwork Motion Pictures 1991
Teamwork Motion Pictures – wikipedia
Television Broadcasts Ltd (TVB) Tseung Kwan O
Union Film Company – see Zhonglian Film Company
Unique Film Company 1934
United Filmakers Organisation (UFO) 1992
United Photoplay Service Ltd  1930
Universe Entertainment Ltd
Wader / Wa Daat Motion Pictures 1950/1953? – 1973
The Wader Film Studio was founded by  Hu Jin Kang in 1953. In 1964 following his death it was taken over by Singapore's Kwong Ngai Organisation, with Xu Lizhai being the manager. The studio was located on Castle Peak Road in Tsuen Wan with three sound stages occupying 80,000 square feet. Between 1953 and 1973 over 1,200 films were shot there (one-fifth of HK's total production output) including Cantonese, Mandarin, and Chaozhou dialect. In 1973 the studio was sold because of falling production (at that time, films were shot mostly on location) In 1997 a factory stood at the studio's location.
Winners' Workshop Production Co Ltd 1984
Win's Entertainment Ltd
Win's Movie Production & Co 1984
Wong Jing's Workshop
Xianhe Ganglian (Hong Kong) Film Company
I'd like to see more of this production company's output, as they focused on martial arts action serials. Founded in 1961 and lasting through '69, Xianhe produced 39 films. Among their big martial arts films were THE GOLDEN HAIRPIN (1963), THE SIX FINGERED LORD OF THE LUTE (1965), and THE SNOWFLAKE SWORD (1964), from which I grabbed this rather serene and gentle logo, in comparison to the fanfare of its contemporaries: (1)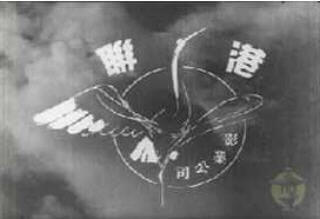 Yonghua / Youqiao [?] Film Company 1948-1957 was located at Kowloon Tsai. Its boss was Li Zuyong and the studio manager was Lu Yuan Liang. It was the biggest and most modern studio in Hong Kong at the time possessing two sound stages measuring 120 by 80 feet each. The cameras, lighting, recording systems and film processing equipment were state-of-the-art. It was the only studio in Hong Kong to possess a back-projection projector. In 1955 the studio relocated to Hammer Hill Road, Diamond Hill and was taken over by the Cathay organisation nd was renamed the Motion Picture and General Investments (MP&GI) studio.
Yung Hwa Motion Picture 1947
Zhonglian (Union) Film Company
Founded in 1952 and lasting until '67, Zhonglian was a film collective formed by a group of Cantonese film artists. They produced 44 pictures, including the famous IN THE FACE OF DEMOLITION (1953). Here is their logo, captured from their 1957 production TAKING THE BIRTHDAY GIFTS CARAVAN BY STRATEGY (a movie based on an episode from THE WATER MARGINS). The logo evokes the success of their first picture, THE SECRET BOOK (1961), a film whose Chinese name was MYTHICAL CRANE or "Xianhe," which also became the name of the film company.(1)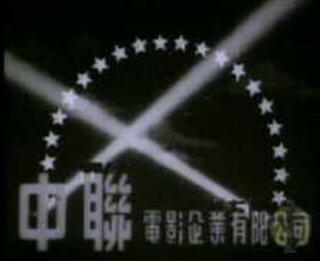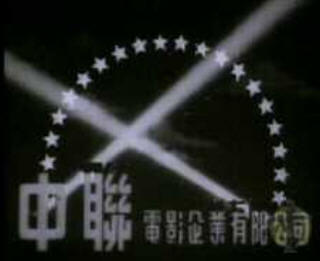 Film Studios in China which used to make HK films
Hengdian
Nanhai
This article was first posted on 27th September 2014.
See:
http://hongkongandmacaufilmstuff.blogspot.hk/ Philip Edward Kenny's website
Hong Kong Cinemagic http://www.hkcinemagic.com/en/studio.asp?id=6 lists 1,448 Film Studios, mainly HK but also China, Taiwan and many other countries
The book, 50 Years of the HK Film Production and Distribution Industries: An Exhibition 1947-1997
Presented by the Urban Council, organised by the HK Film Archive – copy available at the Archive's Resource Centre but not for loan.
Source:
illuminatedlantern.com – a history of Hong Kong film production companies
The hongkongandmacaustuff.blogspot – Golden Studios – Then and Now
Related Indhhk articles: