Andrew Weir Shipping and Trading Co.Ltd (Bank Line) – connection to Sha Lo Wan Mine, Lantau
HF: Tymon Mellor's article, Sha Lo Wan Mine, includes, "A local company, The Bank Line (China) Ltd was interested in production of the ore for shipment to Japan, through Andrew Weir & Co, a local "reputable firm" as advised by the superintendent of Mines in a memo dated 7th January, 1953."
Here is an introduction to this British shipping company and a brief mention of the establishment of a Hong Kong branch. More information about the company in Hong Kong, especially in connection with Sha Lo Wan mine, would be welcomed.
1885 Andrew Weir (1865-1955)  first acquired a sailing ship in Glasgow. The name of Weir's ships included the word "Bank" from the outset.
1896 First steam ship was bought.
1905 Andrew Weir registered Bank Line Ltd. Bank Line operated services between Europe and the South Pacific. Since this year all ships have been registered in that company or one of its subsidiaries. At the same time the first of many branches were established overseas in New York, Buenos Aires, San Francisco, and Hong Kong.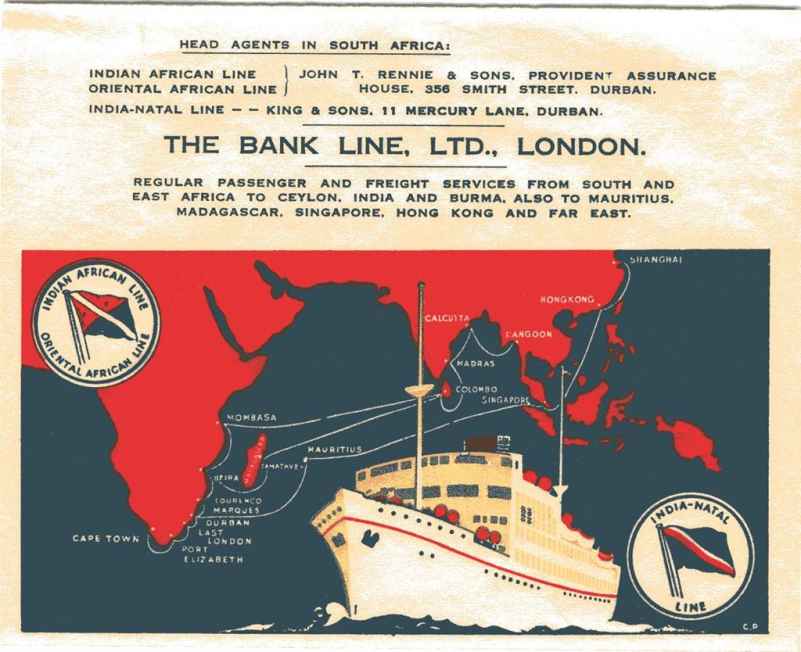 1912 Last of the sailing ships were disposed of.
Bank Line lost many ships to enemy action in both WW1 and WW2.
1919 Andrew Weir and Co (Bank Line) and the East Asiatic Co., Copenhagen, founded United Baltic Corporation,  operating passenger and cargo services from Poland and the Baltic States to London.
1935 Robert MacAndrew was acquired by Andrew Weir and Co Ltd, as a subsidiary for their United Baltic Corporation.
2003 The Bank Line (South Pacific) service was sold to The China Navigation Co Ltd, the deepsea shipping arm of the Swire Group.
See:
Related Indhhk articles: Sha Lo Wan Mine